The 'Crown of India', Kashmir can be best explored with the well-planned, fully organized, and absolutely budget-friendly Kashmir tour packages from Travel12Go. Choosing these easy and convenient packages will not only offer you a well-crafted itinerary for your tour to Kashmir but will also offer you comfortable pre-booked accommodation, excellent sightseeing tours, fun activities, and of course, 24/7 genuine travel assistance.
Spend a fun filled family vacation to the 3 crowned jewels in the paradise of all amidst the lofty green Himalayas hailed all over the world to glittering lakes surrounded by stationary houseboats in the Heaven on Earth – Kashmir.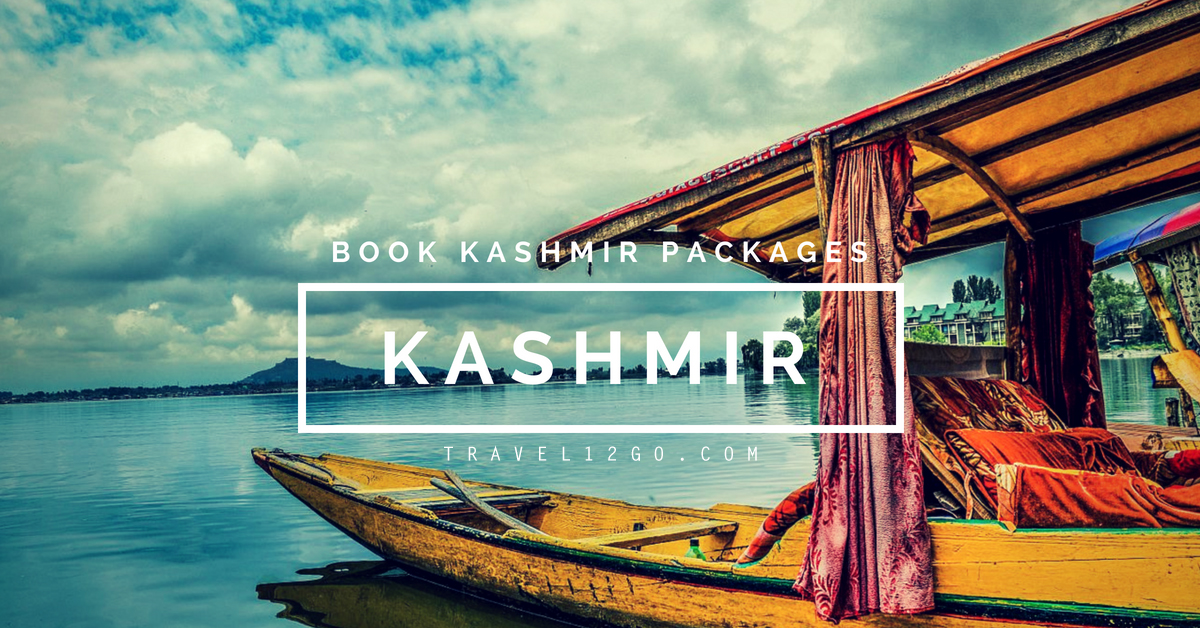 Explore a myriad of our mind-boggling locations
Devotees on a pilgrim trip to the holy Amarnath caves (Lord Shiva's abode) halt in Pahalgam as the base camp before continuing their journey to the shrine. Pahalgam is an ideal spot for activities such as fishing, trekking and hiking and the city also attracts a lot of tourists for its picturesque beauty of the Liddar valley.
Of all the places in Kashmir, perhaps none is as easily recognized across India as Pahalgam is and the credit for this must go to a long string of Bollywood films that have had either a song or some other sequence set in this breathtaking natural beauty. For example, there is the 'Bobby Hut' made famous by the seventies blockbuster love story, Bobby.
The Nubra valley is a very romantic destination with lush green valley perfect for a very relaxing and calm holiday amidst nature. The Nubra valley is also called the Valley of Flowers and the lands here are cultivated with various fruits and grains which are fostered by the Nubra and Shyak rivers. There are hot springs in this region where people come to experience a sizzling bath owing to the medicinal properties in its waters.
The sheer serenity and the historical romanticism of this valley will sweep you to the brink of nothingness until you awake from the trance and realize what time you actually are in. Nubra Valley is a trekkeras inevitable halt and is constantly besotted with bikers and trekkers from around the globe who come here to quench their thirst for adventure trips to the Siachen Glacier north of the valley. The valley is dotted with monasteries, which look mystically beautiful from the river basin, out there in the open and vast expanse.
Sonmarg, which means "Meadow of Gold", is a picturesque hill station in the Kashmir Valley located in the Indian union territory of Jammu and Kashmir. Situated at an altitude of 2800 meters and adorned with a majestic glacier, meadow, dense forests, and snow-capped mountains makes Sonmarg an ideal holiday destination in Kashmir.
For nature lovers, Sonmarg offers the chance to unwind amidst its scenic vistas; adventure buffs who can indulge in trekking and camping activities for adrenaline rush; and honeymoon couples can spend time cozying up amidst its beauty.
The flower-laden (in summers) valley of Sonmarg, nestled amongst the majestic Himalayan range has many tourist attractions to offer and Thajiwas Glacier is the major one. It is an easy day hike recommended to even family vacationers.
The adventure lovers in Sonmarg have great opportunities to head out for scenic treks. Amongst the most popular treks starting from Sonmarg are Gangabal Lake Trek and Krishansar and Vishansar twin lakes which in fact also make for important brown trout fishing destinations in Kashmir.
Travel12Go has well planned special tour packages for Patnitop in Jammu & Kashmir, which offers you the opportunity of exploring the best of Patnitop sightseeing at incredible prices & deals. With our Patnitop holiday packages, you can enjoy the tranquil environs, dense wooded cedar forest, gorgeous views of Pir Panjal range & many other tourist attractions in Patnitop.
Patnitop, one of the most famous hill stations in Jammu, located in the Udhampur district just above the River Chenab gorge, is great for planning both a family holiday & a honeymoon tour, both for its incredible sightseeing and adventure opportunities. You will enjoy every second of your trip to Patnitop, not just for the spellbinding views, but also the absolute peace and calm which relaxes you completely.
Your family sightseeing tour in Patnitop can also include spending quality time at Children's Park with your kids and enjoying pony rides. Billo ki Powri, a historical site, and Kud Park, a famous picnic spot for both families and couples, are both sites which you should visit. You can also enjoy the amazing views of Pir Panjal Range and visit the 600 years old Nag Temple.
Explore Best Package Tours