Wedding Planner in Rajasthan
Travel12Go as your wedding planner in Rajasthan, the entire event will be pulled off to perfection. We are a one-stop shop for couples looking to plan a sophisticated wedding in Jaipur. Our professional team of planners can help with everything. All you have to do is arrive, enjoy, and say, "I do". When it comes to wedding planning in Jaipur. We have extensive local knowledge and strong local vendor resources. We take care of planning your entire wedding- right from venue selection, vendor management, logistics, decor designing, budget management and co-ordination.
Hotels in Jaipur are well versed with hosting destination weddings and are warm and welcoming. Hotels in Jaipur range from heritage hotels like Samode Palace and Shiv Vilas to rustic forts like Neemrana to heritage palaces like Chomu Palace to grand five star hotels like Le Meridien and Fairmont Hotel.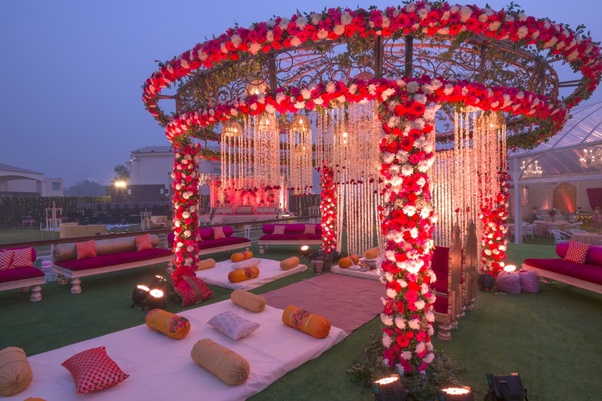 Without the necessary time and local knowledge, it can be an intimidating prospect to plan a destination wedding in Jaipur. As wedding planners in Jaipur, we understand that due to time restraints and work commitments our clients often prefer to avoid overloading themselves with planning their perfect wedding from afar. Travel12Go specializes in managing just these occasions; from small, intimate family events to large, spectacular celebrations: weddings are the only thing we do! Our team can plan your entire wedding from venue bookings, vendor management to the overall design and execution. We offer a personal service, accompanying you not only on your initial viewing of possible venues but on any subsequent visits and for the duration of your wedding, ensuring total dedication to you. If you are planning your wedding from outside of India, we are also available on Skype. So if it is not logistically possible for you to come to India for a visit we are still able to build that personal relationship and take care of everything remotely so your wedding in Jaipur is everything you have always dreamed of.
Complete Wedding Planning
Our Full Service Wedding Planning includes every aspect of planning your wedding. No detail is left undone, as our team will be there for you in every step of the way
Travel12Go plans over many weddings in year. This avail us to get discounted rates from venues which are not available to you. Get benefits of our hotel tie-up. Post your requirements now.
From the moment your guests walk in, they should experience your vision and personality through the stunning customized décor and unique touches that the our wedding decorators will provide.
Our partial planning services is perfect for those couples who have already started their wedding planning process and need professional guidance regarding some elements of their wedding like decor designing or planning a theme.
Special prices and exclusive discounts with our partners (Decorators, Entertainment, Bridal Makeup, Mehendi etc) and priority access to events sponsored by Travel12Go.
Wedding packages are pre-arranged combinations of the best wedding deals. Wedding Packages are extremely popular when planning a destination wedding.