Main Info
Surrounded by the ocean and populated by the diversity of the Ghats, it is hard to shortlist places to visit in South India. Every turn reveals something new in this natural wonderland. Marvel at the backwaters of Alleppey, party your heart out in North Goa, explore the tea plantations of Munnar, indulge in the scenic beauty of Coorg, or be mystified by the clouds that roll across Kodaikanal. One can spend hours just describing the tourist places of South India, and weeks trying to visit all of them.
Known For : Top Station Echo Point, Munnar Atukkad Waterfalls
The idyllic hill station Munnar – famous for its tea estates, exotic lush greenery and craggy peaks, is located in the Western Ghats, in the state of Kerala. It serves as the commercial centre for some of the world's largest tea estates. In addition, Munnar has many protected areas which are home to endemic and highly endangered species like the Nilgiri Thar and the Neelakurinji.
Best Time: September to May
Known For : Nilgiri Mountain Railway Ooty Lake Emerald Lake, Ooty
The Blue Mountains have always been shrouded in mysticism, and Ooty is no exception to that. For every mountain lover, the very idea of travelling to the city known as the Queen of the Hills holds an allure like no other. Once regarded as the summer headquarters of the East India Company (and for a very good reason), Ooty, also known as Udagamandalam, is a hill station in Tamil Nadu which serves as a very popular tourist destination for anyone looking for a picturesque place to relax and unwind. Ooty is nestled amidst the Nilgiri hills at an altitude of 2,240 meters above sea level and enjoys a favourable climate all year round.
Best Time: Throughout the year
Known For : Stay in Houseboat Marari Beach Alappuzha Beach
Extremely famous for its beautiful backwaters, the city of Alleppey in Kerala is also known for its beaches, temples and traditional boat races. This popular tourist destination in South India also has some very well reputed Ayurvedic spas and wellness centres.
Best Time: June to March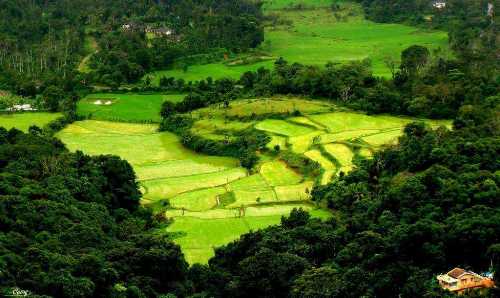 Known For : Abbey Falls Talakaveri Raja's Seat
Located amidst imposing mountains in Karnataka with a perpetually misty landscape, Coorg is the place to be for all nature lovers. This popular coffee producing hill station is not only popular for its beautiful green hills and the streams cutting right through them. It also stands as a popular destination because of its culture and people. The Kodavas, a local clan specialising in martial arts, are especially notable for their keen hospitality.
Best Time: October to March